After a crazy IPL Auction yesterday, every team is set with their squads. The likely playing 11s of every team are being made and they are being weighed on the scale of how good their playing 11 looks like. You must have done the same with your favorite team when you'd thought if analyzing how well or poor the auction went for your team. In this series, we look at the ideal playing 11 of each team when they start IPL 2021 and we begin with Royal Challengers Bangalore (RCB) first.
Also read : Five most surprisingly expensive buys in the IPL 2021 Auction
Devdutt Padikkal
After being the leading run scorer for Royal Challengers Bangalore last year, Padikkal will face the challenge of replicating the same success again. As often said, " you can have a very good first season but it's the second season that defines where you will end up ". All the other teams must have looked upon his areas of strengths and weaknesses and he will face the challenge of countering it. Padikkal scored 473 runs in IPL 2020 and was the find of the season for RCB.
Mohammad Azharuddeen
In the eliminator match against SRH, it was captain Virat Kohli who came to open the inning but will he continue doing so is a question. If Kohli opens, Joshua will have to sit out and RCB can afford to play an extra overseas bowler or Daniel Christian at number 6. However, it comes with a side effect. In case of Kohli opening the inning, AB de Villiers will have to come as early as number 3 in the batting order followed by Maxwell and that leaves the lower middle order exposed again, just like the previous season.
This is the reason why we think Kohli will go back to number 3 and allow Kerala opener Mohammad Azharuddeen to open with Devdutt Paddikal. This move is full of risks given how new Azharuddeen is at this stage but it allows RCB to play one more overseas batsman in the late middle order. If not, Joshua Philippe can still play and open with Padikkal but that will restrict RCB from exploring a power hitter (with more than 2 overs with ball too) at number 6.
Virat Kohli (captain)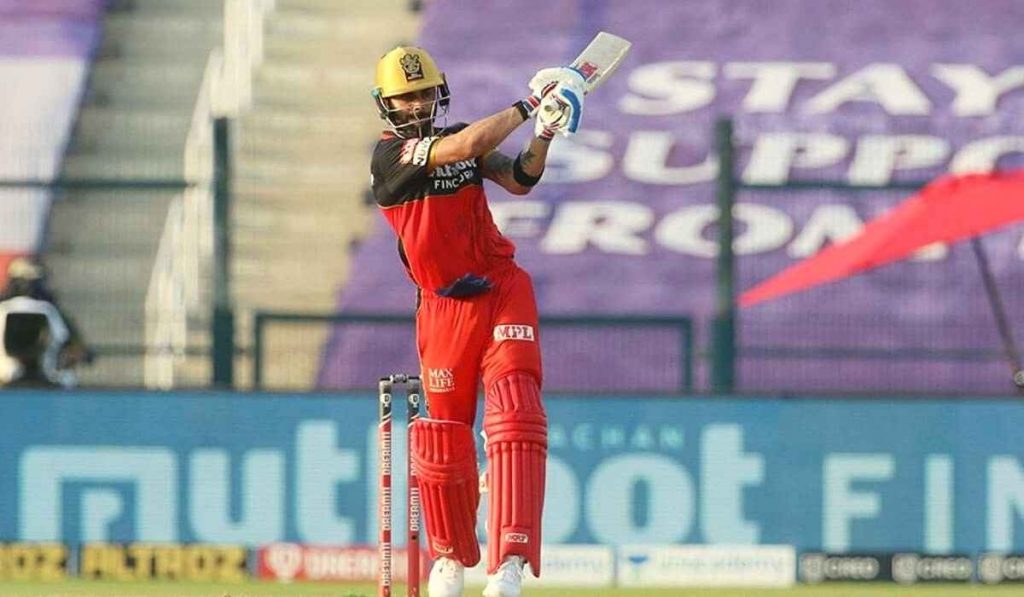 No uncertainty over this place as this is the favorite place to bat for RCB captain Virat Kohli. However, with the decline in his game against spin (and he will have to face plenty of spin if he bats at 3), there is a case of him opening the inning and setting up the tone too. But as mentioned, that would mean AB de Villiers will be batting at 3 and although it will give him a great chance to dominate the game right from beginning, his early dismissal will leave RCB with lots of problems. If not AB de Villiers, Rajat Patidar can bat at 3 too but he is quite inexperienced. RCB will have to choose between the inexperience of Mohammad Azharuddeen and Rajat Patidar in the top order as Kohli is very flexible and cat bat anywhere.
To avoid that risk, there is a strong case of Kohli getting back to number 3 position. Him being followed by AB de Villiers and Glenn Maxwell will make a pretty strong middle order and Kohli may manage to attack spin more than he did in IPL 2020 knowing that he has the batting depth he needs or he may play the anchor role allowing others to go berserk.
AB de Villiers
AB de Villiers was literally the savior for RCB in few matches when he was left with everything to do. He will start with unreal expectations yet again and will bat at 4 unless RCB tweaks with their plans. We all know AB doesn't have that strong game against leg spin now but playing him at anywhere below 4 will mean his batting resources will be wasted in many matches. AB de Villiers with 454 runs in previous season and so many impactful performances with him solves a lot of batting problems for RCB when he bats at 4.
Glenn Maxwell
The million dollar baby is ready to begin his new journey with a new team and what better place to go to RCB where he will be working with the greats like Virat Kohli and AB de Villiers. Maxwell had a horrible IPL 2020 yet RCB put all their faith and money in him hoping the investment in him would pay dividends. Whether it does or not, can only be seen once the IPL begins but for now, he is ready to go for RCB slotted at 5.
Daniel Christian
The tricky one to ponder upon for RCB management is the number 6 slot. They have got both overseas and Indian options for number after the auction they had yesterday. Among Indians, Suyash Prabhudesai, Rajat Patidar and Sachin Baby can bat at 6 while among overseas players, Daniel Christian and Daniel Sams fit in for that role. Given the balance of the team, RCB can afford to go with an overseas option at number 6 and they will have the luxury of getting some overs from them too but for that, they will have to drop Joshua Philippe at top and go with an Indian opener like Mohammad Azharuddeen.
Daniel Sams is a bowling all rounder who can also bowl 4 overs along with chipping in with runs at 6 while Christian is a batting all rounder who can strike the ball clean and has superior batting abilities than Sams but can bowl a maximum of 2 overs only. Now it will be upto RCB management to decide what area do they want to strengthen. For now, Daniel Christian looks like the one who will start for them.
Washington Sundar
At number 7, they will have Washington Sundar which gives them a great batting depth. With the improvement in batting, there is a likely possibility of Sundar opening the inning too but we will put that thought to bed for now. Sundar at 7 gives them the balance, the freedom they crave for and he also gives them 4 good overs with spin, particularly if the opposition has lot of lefties. Even if he goes through a bad day, RCB will have enough bowling options to cover him, including the spin option in Glenn Maxwell.
Kyle Jamieson
Just like Maxwell, RCB have put a lot of faith in Kyle Jamieson too and with his price tag of 15 crores, he is certain to play as the leading overseas fast bowler for RCB. Having played only 4 T20 internationals, Jamieson will have a big task ahead of him to fulfill the expectations of management as the leading fast bowler of RCB and it is still unseen how will he fare in the death overs. Saying all this, he is still better option than Kane Richardson. The cherry on the cake for RCB would be his batting and his batting capabilities at 8 gives RCB a luxury to bat fearlessly.
Mohammed Siraj
The last 3 players in this playing 11 are all someone who have played for RCB and shared the workload together. Mohammad Siraj has seen immense rise in his fame since the successful Australia tour but that was in Test cricket. He is still a work in progress in T20 cricket although his 2020 IPL would please and comfort majority of RCB fans.
Navdeep Saini
While Siraj has seen a rise in his stocks, Saini has seen a downfall in his shares. He had an awesome IPL 2019 and just when fans started expecting from him, he disappointed them in 2020 despite an excellent start where he bowled a terrific super over against Mumbai Indians. Saini was able to pick only 6 wickets last year and RCB would be hoping he can get better this season. If not, they will face serious problems in bowling. Even though Harshal Patel is a backup option to cover up for either Siraj or Saini, he possesses different skillsets and can't be effective in all the conditions & under every circumstances and a lot will rely upon Saini.
Yuzvendra Chahal
Talking about reliance, if there is one guy RCB could rely in any condition, any match circumstance, it would be Yuzvendra Chahal. He is the leader of the bowling attack and he is the only one bowler RCB can trust by shutting their eyes closed. Chahal had a successful IPL 2020 picking up 21 wickets and he would want to replicate or even better his previous performance.
Join our telegram channel for fantasy teams and more cricket updates